The (challenging yet rewarding) making of TRULY TYLER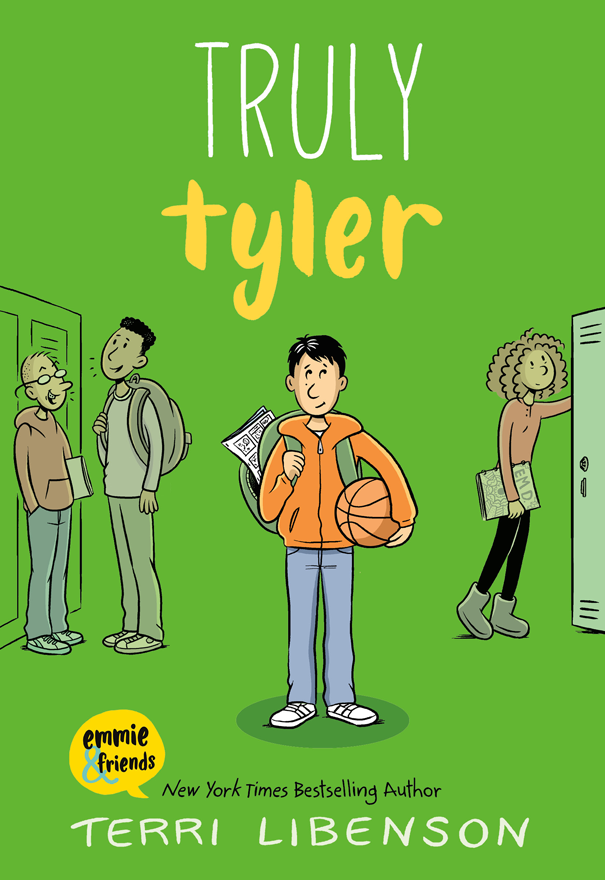 Readers often ask which of my books is my favorite. I tell them that's like choosing my favorite child. Each is unique and personally loved for all sorts of reasons. However, I will tell them which of the books were my favorites to write. That's easy.
My third and fourth books practically wrote themselves. The stories sprang from actual events. JUST JAIME was loosely based on a bad experience my daughter had in eighth grade; years later, the surrounding emotions were still palpable. BECOMING BRIANNA centered around a bat mitzvah; I easily recalled so many of the challenges, mixed emotions, and funny moments from my daughters' ceremonies as well as my own.
I was feeling both grateful and somewhat smug when it came time to write Book 5. After my naïve-yet-somewhat-relaxed foray into Book 1 (no deadline, no expectations) and moderate trials and tribulations of Book 2 (hello, Second Book Syndrome), Books 3 and 4 went swimmingly. I thought I finally had my formula down pat.
Enter 2020.
The Pandemic brought the tempest of true writer's block. Not right away. At first, I was stoked. I challenged myself to write from a boy's perspective for the first time, and I was excited to give it a go. To get into the spirit, I read middle grade books from boys' POVs, and – through other books and articles — I tried to get familiar with their psychology (having only daughters, this was a must).
Maybe I overdid it.
My first draft flopped. I thought I had nailed it (sorta), but after reviewing it with my editor and – eventually and embarrassingly – re-reading it, I could see it wasn't working.
My second draft was a complicated mess. Clearly, I was overcompensating.
The third was closer (whew).
The fourth nailed it.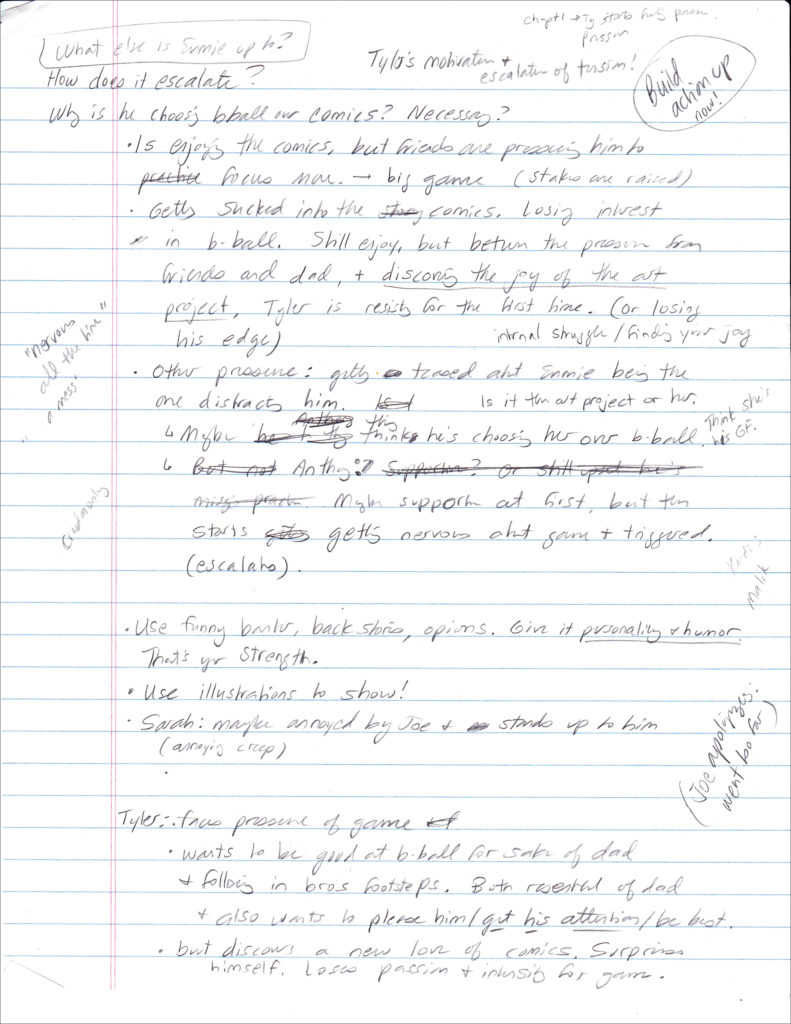 Early manuscript chicken scratch notes
This probably doesn't sound all that extraordinary. But the book is part of a series, and each book is published yearly around the same date. This consistent publishing date is important.
All these TRULY TYLER drafts were written and reviewed over the course of nine months, leaving me with a tight three-and-a-half-month deadline to do all the rough art, finished art, and ultimately, a book-within-a-book (supplemental comic book "written and drawn" by the main characters). Gulp. How would I make my deadline?
As I mentioned, Book 2 (POSITIVELY IZZY) left me with typical Second Book Syndrome (Google that). I went through several rewrites in addition to stupidly drawing illustrations for my first draft, which was scrapped. I panicked quite a bit. But somehow, I still had plenty of time for revisions, rough art, and final art. I never really questioned if I'd meet my deadline. I did. And that was on top of writing a daily comic strip.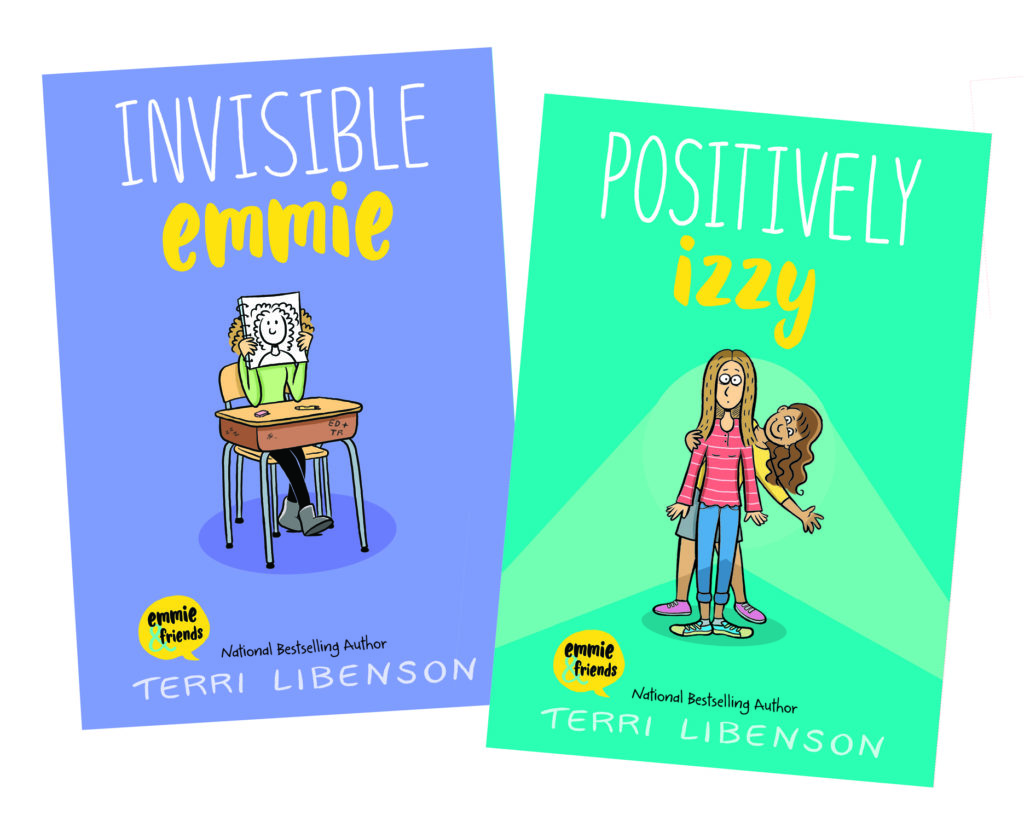 But Book 5 was another beast entirely. I questioned. And questioned hard. I was going through the same lockdown emotional rollercoaster everyone else was experiencing. This manifested in alternating blocks of productivity and malaise. I think by my second draft, I just wasn't feeling it. The storyline wasn't thrilling me, my characters were boring me, and I was compensating by turning the plot into an overcomplicated, adolescent soap opera.
The author clearly brainstorming and not taking a frustration nap
I also had a distracting new pandemic puppy and shpilkes (Google that, too) from never leaving the house. Nothing that most people weren't dealing with, but it definitely took a toll on motivation. Apparently, I wasn't alone. I've read too many articles about authors having their own blocks.
The author definitely not eating her feelings
I think sheer panic is what drove the more successful final drafts. By then, I knew I had to take a leap of faith. I needed to backtrack, simplify, reconfigure the plot, stop thinking so much, and just do what worked for me the first four times:
Write from the heart.
Forget the boy's perspective, forget complex storylines, forget psychology…I just had to remember what peer pressure and social anxiety were like back in the day – from my POV.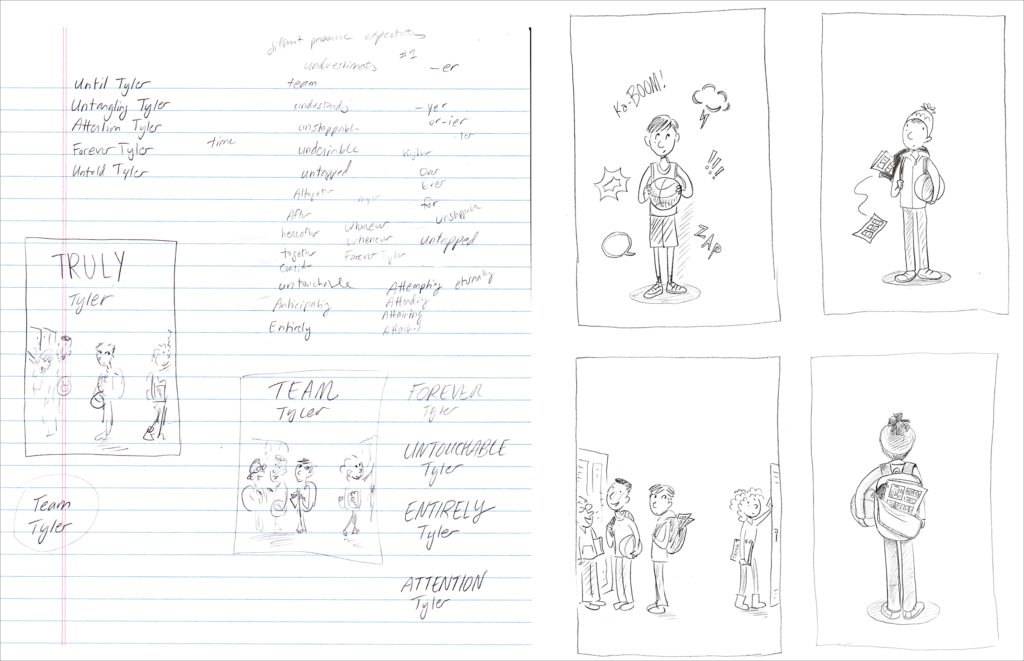 TRULY TYLER early title and cover ideas
And it worked. Something just clicked. I wrote and wrote, and even finished that extra book-within-a-book. Right in time to illustrate the whole thing.
And yes – illustrating TYLER was quite the feat, but I worked round the clock and made sure the quality was there. In fact, I am so darned proud of and grateful for every piece of effort, failure, and accomplishment that went into this book.
TYLER manuscript with rough art
Sometimes part of the writing process is unlearning. Going back to the basics. Remembering that to write authentically, you should be tuned to your own voice and no one else's.
Other important lessons:
Never get complacent.
Never underestimate the power of panic.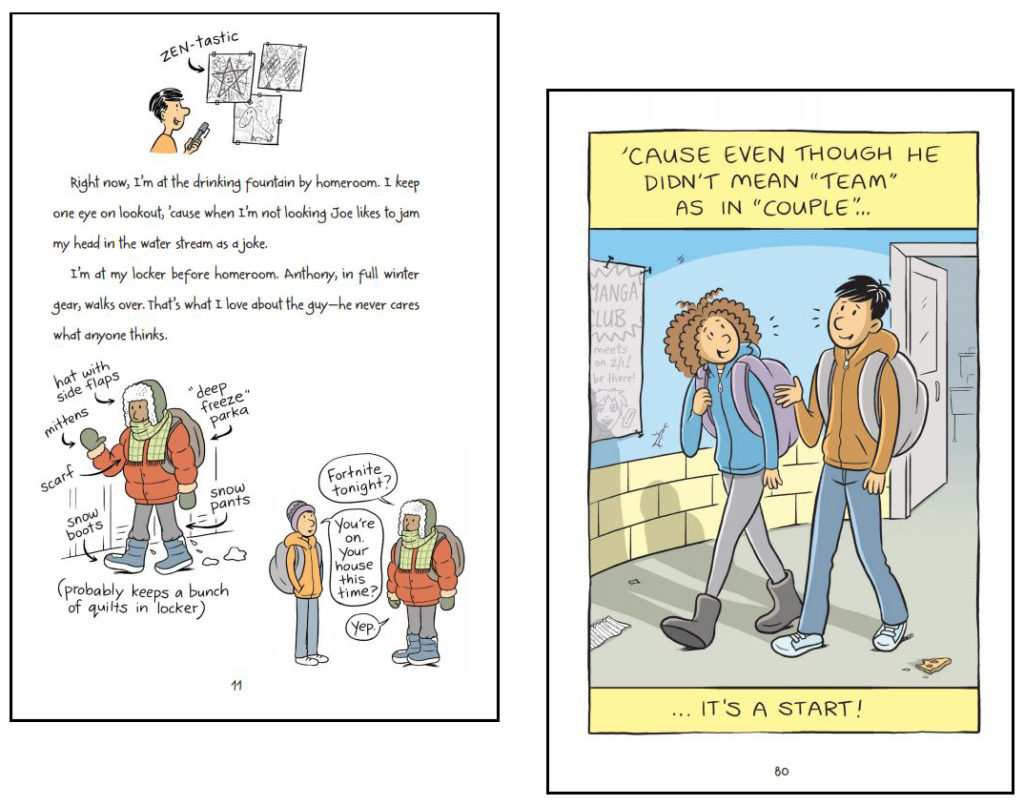 Final page excerpts from TRULY TYLER
Going forward, when readers ask which of my books is my favorite, I'll still say I love them all. But underneath, I may take a little extra pride in TRULY TYLER.
That book was hard-won.
The author celebrating with her puppy (and not luring her for a photo op by feeding her a tortilla chip)